Nissan Micra is fun & easy to drive
Appropriate for every driver
ESC, ABS and 6 airbags make the right statement about safety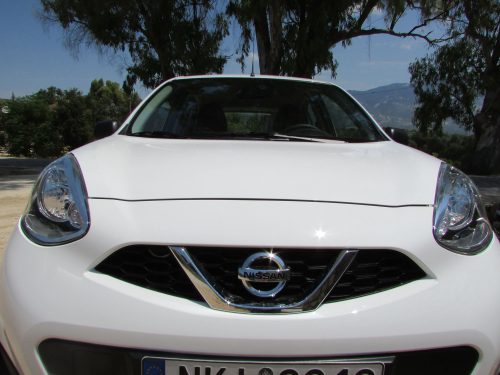 Our Nissan Micra cars are brand new (acquired in summer 2016, 2017,2018) with nice features.
They are great if you are a couple, group of friends or even a family.
These flexible cars have more space than you may think!With seat comfort, outward visibility, seating position—the Micra ethos comes in to focus.
Nissan Micra is a very cost efficient choice if you are planning to go to as many places as you can in Kefalonia without worrying to much about fuel costs, so economical and spacious. Thus said it doesn't mean that it will have any kind of problem carrying you over steep uphill routes even with the very effective aircondition turned on.
These new cars along with an adequate acceleration for the roads of Kefalonia have also impressively great geering, handling and breaking performance.
This car will be highly appreciated by high tech and music lovers since it has embeded bluetooth, usb charger and stereo connections. You can also control the music from the wheel! All our car rentals come with a USB adapter, so all you need is your phone's USB cable and you are good to go!
Easy to park anywhere, you 'll be hassle free if you visit us during the high season
Love Music?Usb Charger&Stereo input
You will find the music controllers
on the steering-wheel to be
really handy.
Remember to bring your
favorite music in your ipod,
mp3 player or cd's.
Nissan micra is a gadget
enthusiast's delight
GoPro Camera for Under Sea Fun
Love the Sea, what more exciting
than a GoProCamera to capture
your fun moments under Sea. Use
your exploring skills to video the
Ionian Sea Life and Species.
Just let us know during your
booking for availability.